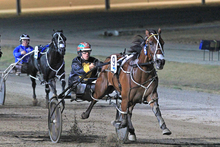 New Zealand's stocks need bolstering, which should start on Thursday when Terror To Love returns to track.
By Michael Guerin
Sushi Sushi, driven by Greg Sugars, wins the A$50,000 Bendigo Pacing Cup on Saturday. Photo / Harness Racing VictoriaHelp is on the way and judging by what happened in Australia on the weekend, New Zealand pacing needs it.
An enthralling weekend started on a low with Gold Ace being pulled out of the Futurity at Cambridge on Friday night and ended with Australia holding the upper hand in the countdown to the Hunter Cup and Interdominions.
The major New Zealand contenders for those two great races who were supposed to further their cause over the weekend didn't, while the big Australian players did…