by Tom LaMarra
Date Posted: 2/25/2016 1:43:55 PM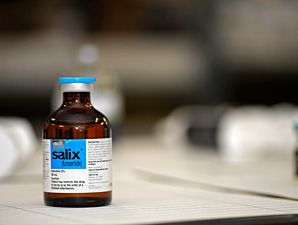 Furosemide used to combat EIPH
Photo: Anne M. Eberhardt
The American Association of Equine Practitioners has identified areas it believes are central to understanding exercise-induced pulmonary hemorrhage, and it hopes they determine future research into alternative methods of combating EIPH.
The condition is currently treated with race-day administration of furosemide, also called Lasix or Salix. The AAEP last year announced its "Prescription for Racing Reform," which includes looking into EIPH treatments that wouldn't have to be administered on race day.
The research topics were developed by a panel that met last November, the organization said in a Feb. 25 release. Members of the panel discussed epidemiology, vascular physiology, pathology, venous remodeling, the role of the heart, pathophysiology of blood flow, efficacy of Lasix, and regenerative medicine in the lung.
"The racehorse is a superb athlete bred for maximal performance, and the panel recognized the physiological challenges of eliminating all occurrences of EIPH," AAEP president Dr. Kathleen Anderson said. "It is clear, however, that our body of existing research has not yielded the information needed to develop more effective treatment options. The questions far outweigh the answers.
"The AAEP is committed to finding solutions for EIPH and we will need the support and resources of industry stakeholders to achieve the research outcomes we've all been seeking."
The AAEP-assembled panel recommended research to experimentally validate the contributions of pulmonary arterial and venous pressures and decreased alveolar pressures to EIPH and to subsequent lung lesions; characterize the venous remodeling and fibrosis found in chronic bleeders; define the long-term progression of lung lesions from the early days of training throughout the racing career; determine the acute and chronic effects of EIPH on horse health; determine the incidence of EIPH during training, including galloping; understand how Lasix decreases EIPH, including possible effects on the vasculature; define the benefit of nasal strips through further testing; and investigate phenotypic traits that represent genetic susceptibility to EIPH.
Specific research projects being developed as is an estimate of the funding necessary to perform the research.
The AAEP in its report reiterated that it "supports the use of furosemide to control the negative effects of EIPH in racehorses. However, race-day administration of any medication is seen by many as problematic for the sport. Because furosemide helps prevent EIPH in the horse, veterinarians are caught in a conundrum of wanting to do what is in the best interest of horse health versus public and industry sentiment regarding race-day medication."
The panel was chaired by AAEP past president Dr. Nat White. Members were Dr. Warwick Bayly, Washington State University; Dr. Jeff Blea, private racetrack practitioner; Dr. Kent Carter, Texas A&M University; Dr. Gordon Cohen, University of California, San Francisco; Dr. Paul Morley, Colorado State University; Dr. David Poole, Kansas State University; Dr. Ed Robinson, Michigan State University; Dr. Corrine Sweeney, University of Pennsylvania; Dr. Dan Weiss, University of Vermont; and Dr. Kurt Williams, Michigan State University.
Article originally appeared: http://www.bloodhorse.com/horse-racing/articles/97997/alternative-means-to-combat-eiph-sought